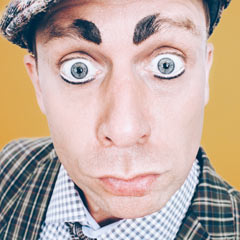 Vita Jean-Ferry
First Show
Jean-Ferry began his performance career in Berlin at the tender age of six. In the years that followed he gained a broad range of acrobatic skills, thanks to numerous performances with a wide variety of artistic acts.
Circus School
He continued his training at the State School for Ballet and Circus Arts in Berlin, from which he graduated. During his studies at the school he already earned engagement at such distinguished venuesas the Friedrichstadtpalast in Berlin, the City Theatre of Dusseldorf, the "Deutsches Theater" in Berlin, and the Schmidt Theatre in Hamburg.
Swing Mortales
After graduation Jean-Ferry went swiftly on to enthrall his audiences as one half of the acrobatic-duo "Swing Mortales": with engagements in amusement parks, circuses, and countless variety shows. Additionally, he featured in several theatre productions: such as the musical show "30-40-90° – open round-the-clock" in the "Theater des Westens" in Berlin.
Ladder Acrobatic
His ever-growing attraction to the craft of ladder-acrobatics led to the development of the act "The Art of Ladder Acrobatic". Since it´s inception Jean-Ferry has performed this fast-paced show in a wide number of variety productions, including appearances in the CasinoSan Remo (Italy), the circus production "Salto Natale" (produced by Rolf and Gregory Knie in Switzerland), the Casino Royal in Baden-Baden (Germany), and the GOP Variety. Besides his variety engagements, Jean-Ferry has proved his artistic excellence in the world of the corporate event and gala market – with an enviable client list that includes Circus Roncalli, FC Bayern München, Siemens, Vodafone, Allianz and Mercedes-Benz.
Comedy Trampoline
In 2006, after five years of training, Jean-Ferry brought another highlight to the stage with his "comedy trampoline". The trampoline quickly became a steady part of Jean-Ferry's stage program. His uniquely artistic comedy act was a guest at, for example, the Friedrichsbau Varieté Stuttgart, Radio Ton Gourmet Palast and numerous event productions.
Comedy Magic & Comedy Character
In 2008, Jean-Ferry integrated more comedy renditions into his program, for example Multiplying Bottles. His continuous development of the clown character led to the creation of further acts such as Comedy Magic and Comedy Animation.
2018

TV Spot XXXLutz

You take Jean-Ferry's ladder acrobatics, a huge book shelf and the living room becomes his stage.

2018

New Comedy Show at the Legoland and TV Show

90 solo shows in 31 days. Jean-Ferry impressed with his comedy interaction show the Legoland visitorsand is guest again in the tv show by Stefan Mross.

2017

150 Shows

At more than 150 shows in the summer variety rügen and the numerous events delighted the guests with and without words, a suitcase, the trampoline and the ladder.

2016

50 min. solo show on theatre stages

Jean-Ferry expands his comedy stage show with his Comedy Solo – both with and without a trampoline.

2015

Clowns – the Show

Renewed and this time as a clown in the Friedrichsbau Varieté.

2014

Co-hosting without words in the Gourmet Palast

Co-hosting as a clown with trampoline, ladder, magic and animation in the Radio Ton Gourmet Palast.

2013

Clown duo in the Spiegelzeit

Side by side with Daniello, Jean-Ferry takes us on a trip through the Spiegelpalast with trampoline, ladder and clown co-hosting.

2012

The magic clown

Jean-Ferry develops the magic clown – slapstick to make you laugh. Comedy magic without a clue, with original magic tools and lots of fun.

2011

Circus Eigenart

Jean-Ferry takes part in the circus show for the first time with his trampoline & renditions along with the live band "Rote Faden".

2011

Ladder Acrobatic

Jean-Ferry premiered, in Stuttgart´s "Friedrichsbau Variete", the comedy version of his ladder-acrobatics.

2008

Multiplying Bottles

Jean-Ferry created further reprises and short pieces based on his comedy character, including the comical magic act "Multiplying Bottles.

2006

Comedy Trampoline

After five full years of development, Jean-Ferry introduced a further artistic highlight into his repertoire with his "Comedy Trampoline" act.